Sellers need to be aware that COVID-19 and the strategies to mitigate risks may impact the sale of their property. Self-isolation strategies could give potential buyers more time to focus on their property purchase, but they could also impact potential buyers' desire to view properties or complete a purchase.
Potential impacts of COVID-19 on the sale of their property could include but not limited to:
requesting health and recent travel information from potential buyers and their professionals before any showing

to give the seller an indication of any risk. Buyers are obligated to either be truthful or simply decline to answer. Inform the seller that they have no duty to show the property if they are uncomfortable with any presented risk
creating a marketing video showing a tour of the house to reduce the number of viewings
offering a virtual video tour so they can consider only allowing viewings for serious buyers who make an offer to purchase subject to a viewing*

making viewings conditional on buyer's and their representatives wearing nitrile gloves, masks, or the use of anti-microbial, alcohol-based hand sterilizer.

making viewing conditional on the buyers and their representative not touching anything

.

set out obligations and procedures for viewings and home inspections in writing.

 

plan to clean doorknobs, cupboard hardware, light switches, as well as surfaces in areas like bathrooms and kitchens before and after

each showing or home inspection

no open houses

held until Alberta health emergency is lifted
where feasible,

communicate virtually using online meeting tools

such as Zoom or Skype
use

electronic signatures for signing documents

conduct

financial transactions electronically

if in person meetings are required,

maintain a safe distance of at least six feet (two meters) at all times for viewings and inspections:

take steps to limit the surfaces people will need to touch
Confirm that the showing Agent and Client(s) have no Covid-19 related health concerns such as recent travel abroad, feeling un-well or have been visited anywhere that has a Covid-19 outbreak concerns and should be in isolation. Further clarification can be confirmed who (how many) will be at the showing to limit visitors into your home.
Take extra effort to tidy up and organize your home in a way the visitor can freely roam without having to touch or move anything other than the main door handle.
(Optional) Feel free to open up the kitchen cupboards, pantry doors. drawers so that the prospect can freely peek in to minimize touching cabinets.
Ensure there is sufficient air flow by opening the window or turning on the air circulator on your furnace/heat pump to draw out stale air.
Wipe down any counter surfaces, door knobs, appliance handles with disinfectant or cleaner just before the showings arrival.
Vacuum and mop the floor to eliminate any dust and debris.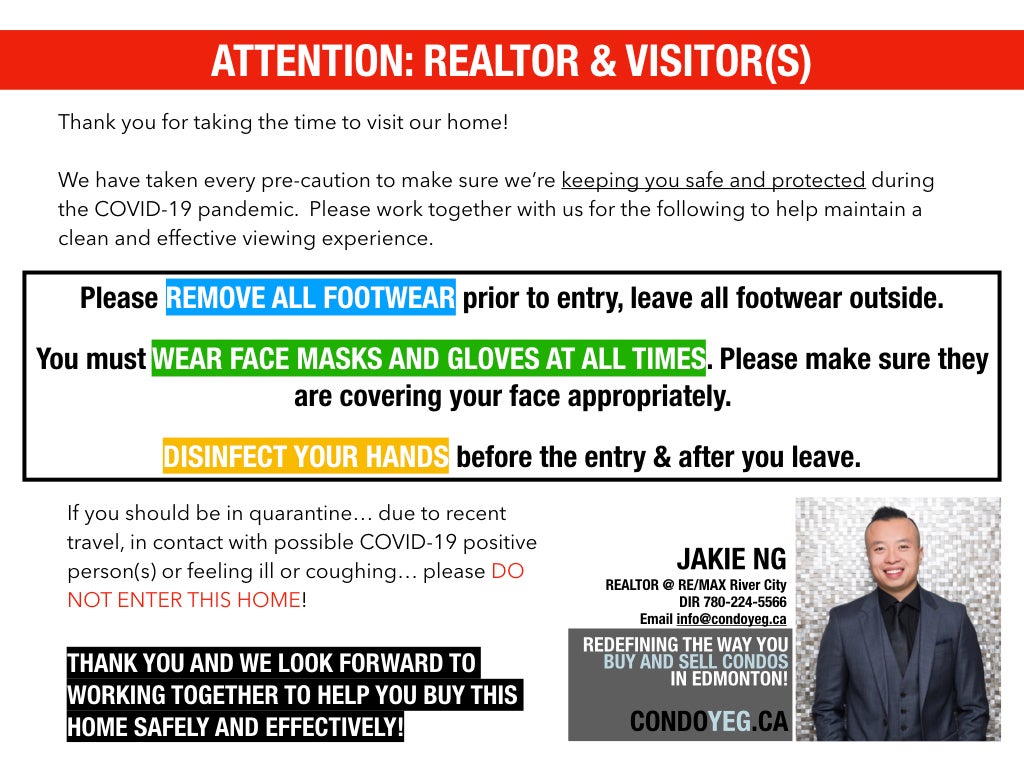 Wipe down any counter surfaces, door knobs, appliance handles with disinfectant or cleaner that the potential visitor may touch.
Vacuum and mop the floor to eliminate any dust and debris.
Remove the poster and save it for the next showing.